The Importance of Good Writing Skills in a School
Walk into any fifth-grade English class and you are likely to hear kids asking when they will ever need to know this, but the truth is that writing skills play a larger part in your professional life than you may realize. Good writing skills can help you come across as more credible, more capable, than a colleague who frequently has typos and grammatical errors.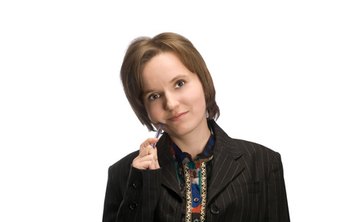 Profession
Obviously good writing skills are important when your job involves writing, be it as a journalist, paralegal or public relations professional – that goes without saying. If you are employed for your writing skills, having "good" writing skills is a job requirement. However, more professions require good writing skills than those traditionally associated with writing. Any time a profession requires written communication, writing skills become important.
Communication
With emails, notes, letters, texts and Tweets, most people spend a fair amount of time at work communicating via the written word. Whether you are messaging a colleague, writing to your manager, or crafting the company newsletter, your writing skills can boost or hinder your career easily, even if you do not have a "writing" profession. Basically, writing skills make a difference in how you come across.
Credibility
People with good writing skills are generally seen as more credible. Think to yourself how you would interpret an email from a colleague that was filled with typos and grammatical errors. At best, he was negligent in that he didn't proofread his message or use spell check; at worst, he comes across as less intelligent and less capable. Better writers tend to get higher grades and be perceived as more competent and more intelligent than their less literary counterparts.
Considerations
In the workplace, you need to make sure that you proofread everything you write, from an email to a company memo. However, just because good writing skills are a plus, you still need to pick your battles. Correcting others can work against you, in some cases even undermining you. Further, context and tone are just as important as grammar. While obvious mistakes are a no-no, such as using "their" and "they're" incorrectly, smaller errors, like confusing "who" and "whom" are less important.
Learn more about the work we do at THINK and read our blog posts about work, life and everything in between and do not forget to Subscribe![sg_popup id="12″ event="hover"][/sg_popup]